06 April 2016
EliteForsk-rejsestipendium til forskning i Mumbais arbejderkultur
Eliteforsk
Maansi Parpiani fra Institut for Tværkulturelle og Regionale Studier modtager et af årets prestigefulde EliteForsk-rejsestipendier. Stipendierne gives til særligt talentfulde ph.d.-studerende, så de kan tage længerevarende studieophold ved de allerbedste forskningsmiljøer i verden. Parpiani skal bruge sit stipendium til forskningsophold ved Centre of South Asian Studies og the Department of Anthropology, Stanford University.
Ph.d. studerende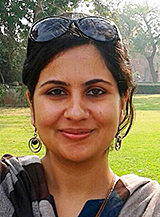 Maansi Parpiani forsker i den urbane "uformelle arbejder", som er blevet de usikre vilkårs ansigt i det globale syd i dag. Gennem disse arbejdere er vi i dag vidne til de dramatiske ændringer af betydningen af både "arbejder" og "by". Denne proces bliver mere intens, efterhånden som landområder i udkanten af store byer som Mumbai i stigende grad urbaniseres.
Hendes afhandling tager udgangspunkt i dette ved at se på de sidste tre årtiers parallelle processer, hvor en stigende "uformelisering" følges af forøgede bestræbelser på arbejderbeskyttelse fra statens side, oftest varetaget af religiøse organisationer, nye fagforeninger, NGO'er og politiske partier. Disse bestræbelser blandes med de eksisterende diskurser i forhold til slum-rehabilitering, styrkelse af lavkastegrupper, minoritetsrettigheder og de migrationsrelaterede debatter om at være lokal hhv. outsider. Samtidig forsøger de organisationer, der er aktive inden for udviklingssektoren, til stadighed at sikre deres relevans, da de ikke har et socialt sikkerhedsnet.
Det skal stipendiet bruges til
Maansi Parpianis stipendium gør det muligt for hende at tilbringe forårssemestret 2016 på Centre of South Asian Studies og the Department of Anthropology, Stanford University. Her skal hun arbejde sammen med Professor Thomas Blom Hansen, som er en af verdens førende Mumbai-eksperter. Desuden er et af centrets kerneområder urbanisering i det globale syd. Det vil bringe hendes forskning videre, fordi processerne i Mumbai er del af en større kontekst af internationale udviklinger inden for fleksibel arbejdslovgivning og det forhold, at størstedelen af arbejdsstyrken i det globale syd er ansat gennem underentrepriser.
Læs mere om Maansi Parpiana og EliteForsk-rejsestipendiet på Uddannelses- og Forskningsministeriets hjemmeside